Lab Coats & Barrier Coats from GenMed
High Quality Medical Garments That Offer Comfort and Protection
If you work at a healthcare facility, you can appreciate the importance of garments that offer comfort, protection, and are made of high quality material. At GenMed, we offer lab coats and barrier coats at the highest quality ensuring high comfort and protection for your workers. By being involved with several industry organizations such as the Association for the Healthcare Environment and Medical Group Management Association, we're able to support and meet the changing requirements needed in medical garments.
Medical Lab Coats
Medical lab coats through GenMed are customized for each employee in your facility, and they are always hygienically clean for when you need them. In addition to our high quality material, all lab coats can be customized with your organization logo, physician name, and details.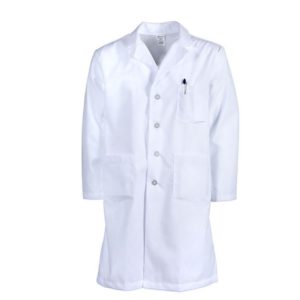 Barrier Coats
Barrier coats give your employees extra layers of protection from bodily fluids, blood, spray impact, and other various germs or contaminants they'll encounter when caring for patients. In addition to regular barrier coats, you can choose from garments that meet specific barrier performance standards as well. 
Our barrier gowns are reusable, which means better quality and better for the environment. While many companies have turned to disposable gowns in recent years, we continue to strive to be environmentally conscious.
Get Hygienically Clean Coats Today
If you're receiving medical garments that aren't up to par, it is time to make the switch to GenMed, a local provider you can rely on! Contact us today, we are looking forward to hearing from you!