Complete Deliveries Made Possible with RFID Technology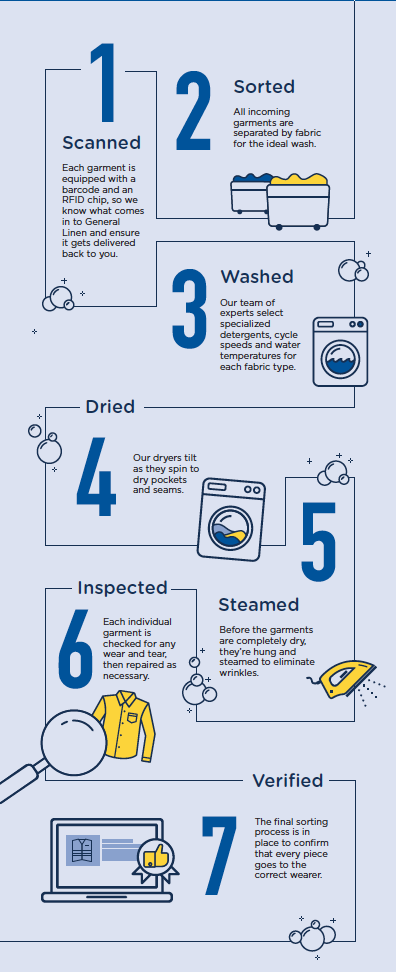 Tracing Garments Made Easy
At General Linen, we've made significant investments in technology that allow us to account for all garments and mats properly and effectively. All garments, except for linens, are outfitted with an RFID (radio frequency identification device) chip to make sure what employees send in to be laundered are returned to them, complete. No missing garments, and accurate invoicing due to this technology.
Accurate Deliveries & Invoicing
RFID technology makes the overall process of receiving and delivering garments easier for all parties involved. We're able to identify potential "missing" garments based on what's scanned in with us. You can see reports in your online account, too. This gives you better visibility to what wearers are turning in, or not, and how your uniform rental program is being utilized.
We also use this technology in our mat rental programs. This gives you a clear picture of the mats being used, laundered and returned to your facilities at any point.
Even More Benefits for Our Customers, including:
Accurate invoicing.
Complete deliveries
Online access to view invoices and request changes
Reduction or even elimination of lost/missing garments
Stay Local. Stay Connected.
Did you know that most national companies don't invest in RFID technology?
When you choose a local uniform and linen provider like us rather than a national provider, you'll have access at your fingertips. You and your employees will feel a sense of relief with complete deliveries and clear communication. While the big national providers are focused on their bottom line, we are focused ways to make our customer's linen and uniform programs easier on them.
Contact us to learn more.