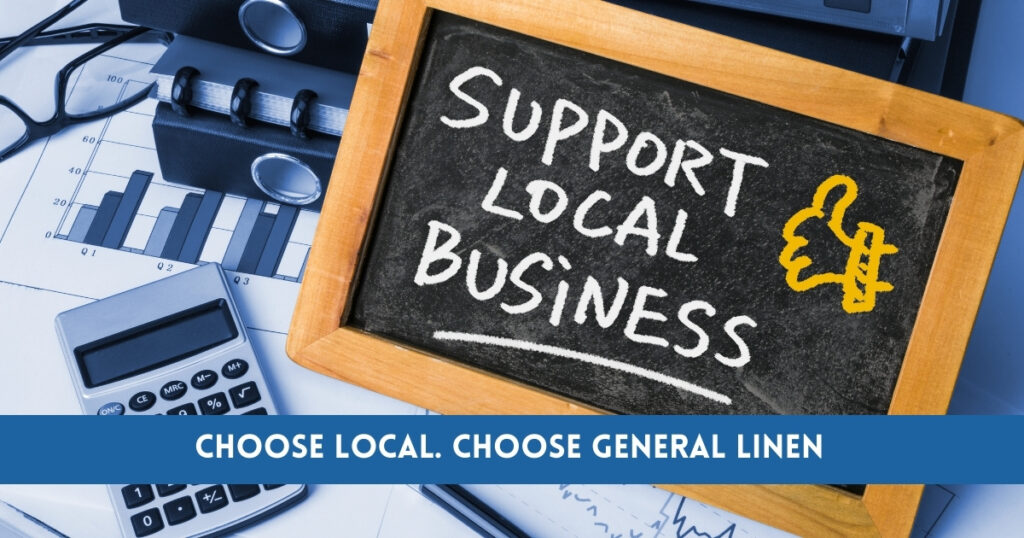 National Buyouts Have You Concerned? Turn to Us
Your Local Uniform Rental & LInen Management Company
General Linen has been providing New England with quality linen and uniform programs for over 80 years, with locations in Somersworth and Manchester, NH; Westbrook and Hopkinton, ME. This gives us strategic positioning to provide the entire region with unparalleled service. As a family-owned and locally-operated linen and uniform provider in the area, we serve our customers with a sense of pride and you will feel that pride when you work with us. Not only will you get treated like family, but you will receive great service that national providers simply cannot provide.
National Provider Acquires Local Business
You may have heard that ImageFIRST recently acquired Pratt Abbott Uniforms & Linen, which makes us one of the largest remaining locally owned uniform companies in New England. With robust uniform rental and linen management programs along with our new medical linen division, GenMed, we are able to keep up with the demands of your program requirements and will always give you the personal touch.
Exceptional Medical Linen Management in New England
Yes, you can get high-quality healthcare linen rental & hospital laundry services from a local company. Our medical linen division, GenMed, services healthcare organizations of all sizes delivering hygienically clean linens, towels and garments for use. We take the extra step to instill confidence in the people we serve that our healthcare linen and uniforms are Clean Green and Hygienically Clean certified by TRSA. Unlike national uniform providers, we have exceptional medical linen laundry facilities in the state of Maine and the New England region. Patient and employee safety is your number one priority, which makes it GenMed's number one priority! Our medical linen and uniform programs ensure your facility is always stocked with hygienically clean garments and linens, which ensures the safety and comfort for your employees and patients.
We Provide What National Providers Can't
At General Linen, we care about you, your employees and our community. Some of the most common complaints in our industry about the national providers are missing, late, or incorrect deliveries, which can bring business to a grinding halt.
Personal Service? Not with nationals. When you have to spend more than 30 minutes going up the phone tree just to get one question answered, that is 30 minutes you could have spent running your business. We've made it easy for customers to reach a live person every time they call (during normal business hours). And you'd have a dedicated customer service team, so you know exactly who to call for what, whenever needed.
Not only will you receive correct and on-time linen and uniform deliveries, you'll also get to know your route representative making those deliveries every week. That rep gets to know your business so we can anticipate any needs or changes for your next delivery.
Switch to General Linen, We Are Here to Stay
If the quality of service has gone down since your local uniform provider has been bought out by a national chain, give us a call. We will treat you like family and work with you to create the best uniform rental or linen management program for your business. You can learn more about us, or just reach out to request some information. We look forward to meeting you! Contact General Linen today!