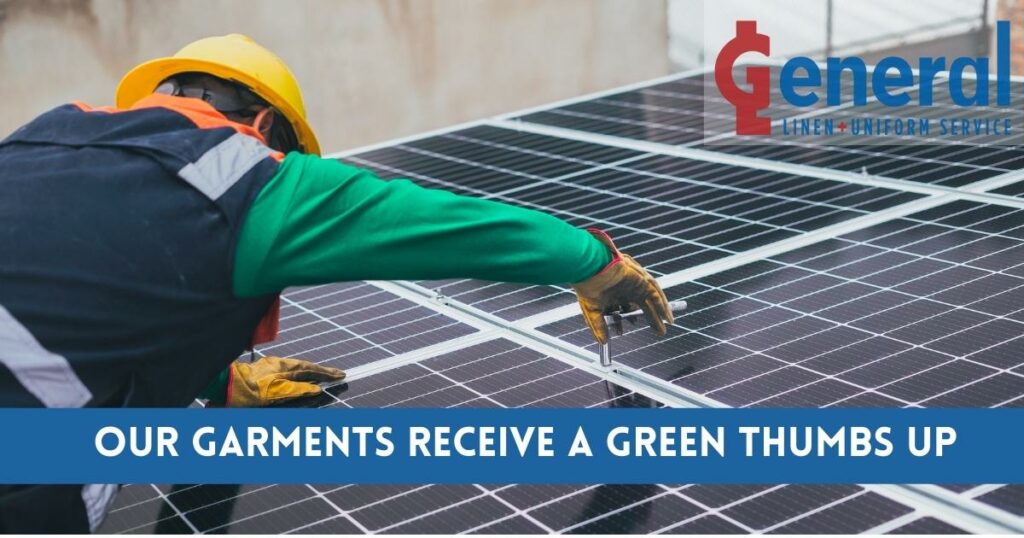 Why Being Green Matters
Garments Receive a Green Thumbs Up
With Earth Day around the corner, it is important that we all do our part in participating in sustainable practices. Since we only get one Earth, being green matters and we need to do our part in protecting the planet the best we can. At General Linen, we take pride in the fact that we have green initiatives in place to ensure not only the highest quality garments for our customers but also processes that don't harm the environment.
Clean Green Initiatives
While delivering high-quality garments and customer satisfaction is one of our top priorities, we are able to achieve all of this in addition to being sustainable in our operations. "Being Green" is more than a phrase, it's a commitment too!
Energy & Water Conservation
We recycle waste oil from our fleet of vehicles and reuse it for building heat.
We invested in a fleet of new trucks that deliver better fuel mileage, and also invested in a new software that optimizes our delivery routes, helping to reduce our emissions even more.
We utilize state-of-the-art continuous-batch wash technology that minimizes water use and reduces energy and chemical consumption as much as 50%.
We employ heat exchangers and stack economizers to recapture and reuse wastewater heat.
Our facilities have energy-efficient LED lighting.
We wash with a tunnel washer which uses less water, sewer chemistry, steam, gas, and electricity than conventional washers.
Learn more about how we are Being Green with our energy and water conservation efforts!
Recycling
We take the saying "Reduce, Reuse, Recycle" seriously at General Linen!
We offer customers reusable products such as linens that replace or reduce the use of disposable paper items.
We recycle cardboard, hangers, and paper.
We even have an Employee Recycling Program!
Learn more about how we are Being Green with our recycling efforts!
Partnerships
Want Sustainable Uniforms and Linen? Contact Us Today!
If you are looking for a uniform and linen provider that cares about the environment, look no further than General Linen! Contact us today!