Would Your Facility Benefit From GenMed Linen Management or Uniform Rental Services?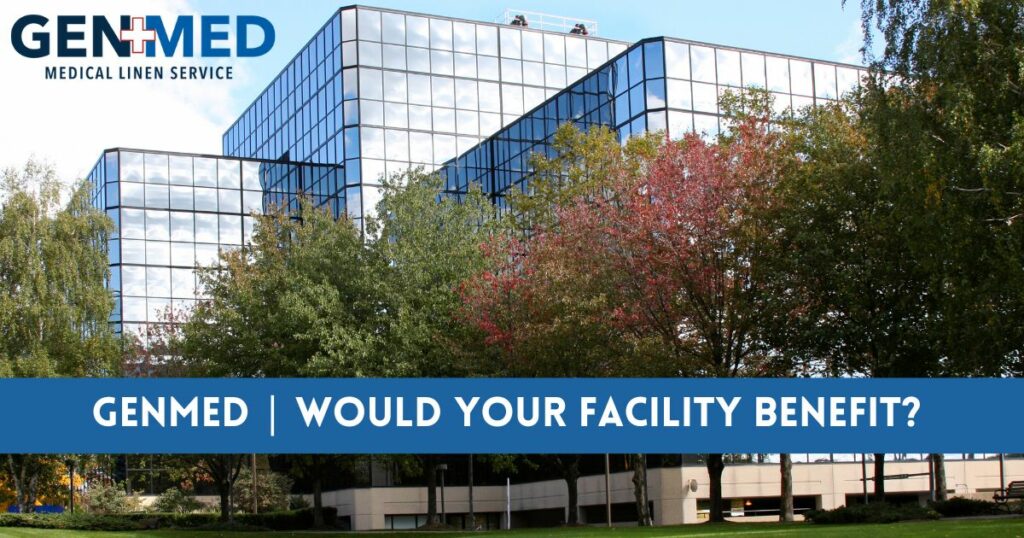 Did you know that most healthcare facilities can benefit from linen management and uniform rental services? 
Due to all of the safety measures that need to be followed, self-managing your linens and uniforms is often a time-consuming process. It can also get expensive quickly when garments are unexpectedly damaged. 
Below, we outline the main benefits of a linen management and uniform rental service program for your healthcare facility.
What Facilities Benefit the Most?
When you think of the term "healthcare," you often think of a hospital or clinic. However, there are many other types of healthcare facilities that can benefit from linen management and uniform rental services.
Rasmussen University put together a list of 14 healthcare facilities commonly found in the U.S:
Ambulatory Surgical Centers

Birth Centers

Blood Banks

Clinics and Medical Offices

Diabetes Education Centers

Dialysis Centers

Hospice Homes

Hospitals

Imaging and Radiology Centers

Mental Health and Addiction Treatment Centers

Nursing Homes

Orthopedic and Other Rehabilitation Centers

Urgent Care

Telehealth
All of these facilities (and more!) can benefit from an organized linen and uniform rental program. 
At GenMed, we provide high-quality garments that assist your employees in more ways than you can imagine!
Linen Management Programs Save You Time & Money
Keeping track of your linens is a full-time effort that staff members can reasonably fall behind on when days get busy; therefore, causing a domino effect that can result in unhappy patients and stressed-out employees. 
Working with GenMed ensures that you're receiving all the benefits of a linen management service, while granting you and your staff the time to focus on what you do best.
Healthcare linen management can become expensive in a heartbeat. An on-site laundry facility requires maintenance and numerous updates when things go wrong. 
However, we help reduce the costs and headaches. With our linen management service, you'll receive the correct amount of inventory you need weekly.
No More Falling Behind On Linen Duties
Investing in an outside linen management service frees up your staff from spending too much time maintaining a satisfactory inventory level. 
GenMed is dedicated to making sure you never run out of garments—even on your busiest day!
No matter the size of your healthcare facility, we know the importance of supplying hygienically clean garments—every time. 
At GenMed, we go the extra mile in our linen management programs; just let our Clean Green and Hygienically Clean Healthcare Certifications by TRSA prove it.
The Benefits of Renting Your Uniforms
As you know, leaving the responsibilities of laundering and maintaining uniforms to your employees can result in less than the desired results. 
Additionally, replacing or mending damaged uniforms can get pricey. A dedicated uniform rental program lets your staff focus on their jobs while displaying a professional workplace 100% of the time. 
Below are some additional benefits of a healthcare uniform rental program!
Ask us about adding your company's logo to customize your uniforms. A uniform with a logo makes your staff look more professional, which can go a long way in easing patients' minds.
The correct pocket or material can make all the difference. At GenMed, we make sure you're getting the highest quality uniforms that are functional for each and every job. 
Not to mention, they'll be both fresh and comfortable with our weekly deliveries.
Staff Is Easily Recognizable
Outfitting your staff in uniforms lets patients easily identify employees. With uniforms, important questions or emergencies won't go unanswered because a staff member couldn't be found.
It's Harvard proven; uniforms promote camaraderie in the workplace. With a uniform rental program, there is less stress for employees to select appropriate attire; therefore, implementing a sense of team spirit and belonging.
Local vs. National Providers
At GenMed, we don't treat our customers like they're just another number on an invoice. Working with a local provider comes with many advantages like on-time deliveries, ease of communication, and transparent pricing. 
Additionally, we leverage our RFID technology that many national companies don't use to make sure you get accurate deliveries and invoicing.
As one of the largest linen management companies in New England, we're family-owned and have been in operation for over 80 years. 
We're passionate about serving our loyal customers. Because of this, we know the difference a dedicated linen and uniform management program can make for your healthcare facility. 
Reach out and talk to one of our experienced team members today to find out how GenMed can help your healthcare facility thrive!