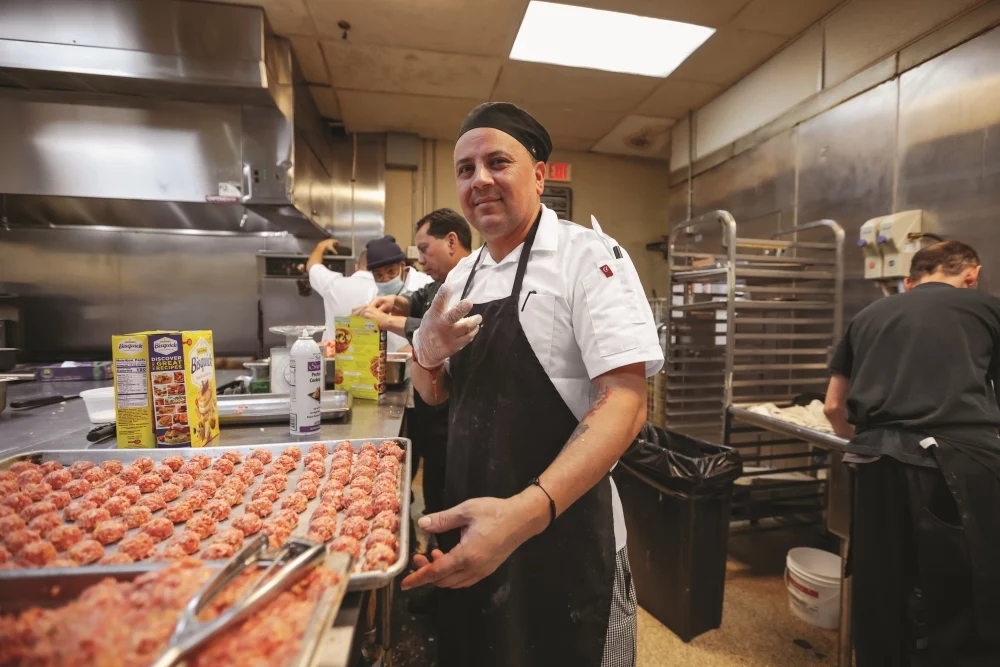 General Linen is the best linen and uniform service in 2023 and beyond, thanks to an unwavering commitment to adapting and evolving alongside new technologies and best practices that place us at the forefront of innovation within our industry. Through years of service and refined processes, we're empowered by insights that only time brings.
The General Linen Difference
We've earned a reputation as a linen and uniform service known for exceptional quality, reliability, and customer service.
Raising the Bar
General Linen stands a cut above the rest as the best linen and uniform service in 2023. We use premier materials to craft our industry-leading linens and uniforms. They are durable, long-lasting, and able to withstand the rigors of frequent use. Our linens sport a perfect blend of comfort, style, and function. They are comfortable, easy to maintain, and withstand the wear and tear of daily usage.
Personalized Service
Our catalog is only as strong as the services that back them. General Linen is reliable and backed by a state-of-the-art logistics and distribution system that delivers your orders on time, every time. We understand the importance of keeping a clean and well-stocked inventory. That's why our expert customer service team is on standby 24/7, ready to relieve managerial headaches and replace them with proven solutions quickly and efficiently.
Versatility
Our linens and uniforms are built with a focus on adaptability to any business context. Whether you need supplies for a hotel, restaurant, hospital, or spa, we raise the bar with world-class garments tailored to elevate your business. Different industries demand unique solutions, so we provide customized options to meet your specific needs.
Green Initiatives
General Linen commits to sustainability. Our quality doesn't come at the expense of the environment. Instead, our processes honor the collective efforts of the 21st century to cherish the home we all share. We reduce our environmental footprint by using eco-friendly materials and implementing recycling and water conservation programs. We are also certified as Clean Green by the TRSA for our sustainability efforts.
Honest, Flexible Billing
General Linen is the best linen and uniform service in 2023, thanks to offering competitive pricing. Cost is a major consideration for its customers, so we provide affordable solutions without compromising quality. Flexible payment options help you save money while still enjoying nothing short of the top-tier service we've earned our reputation for.
High Standards
There's nothing more important than your safety and security. We include strict protocols and quality inspection programs to ensure that our linens and uniforms are free from contaminants that risk the health of your employees and guests.
General Linen is Your #1 Option for Linen and Uniform Service in 2023
Our steadfast commitment to utilizing cutting-edge facilities, laundering processes, and exceptional quality turn us into the best linen and uniform service in 2023. Call us today at (800) 582-7209, or email us to learn more about our products and services!