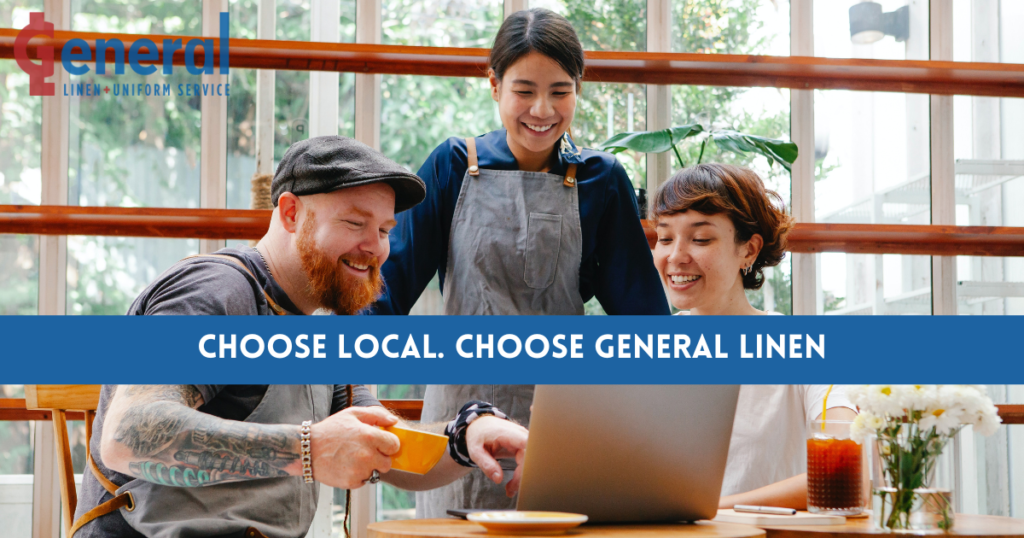 Why You Should Use a Local Uniform & Linen Provider
As a family-owned and locally operated uniform and linen management provider, General Linen has built a loyal customer base that values the products and services we offer. Our dedication to seamless and personalized service is why customers continue to choose General Linen over competing national brands. According to Serpwatch, "the latest local SEO statistics show searches for "local + business" have increased by more than 80% year over year." In other words, people are becoming increasingly aware of the advantages of choosing local.   
The Top 5 Advantages of Working with a Local Medical Linen/Uniform Service
There are countless reasons why a local business can outperform a national provider. However, we'll save you some time and highlight the top five examples why our customers welcome our locally focused operation.
Investing in your Local Community and Economy
Spending your money locally supports the success of other businesses in your community. A company in your area is more likely to be connected to charities and affiliations that directly impact your neighborhood. Dollars spent at a national brand will have less of a chance of making it back to your community.
Check out General Linen's memberships and affiliations.
Environmentally Friendly
Local businesses have more control over their carbon footprint than their national counterparts. Michigan State University's Center for Community and Economic Development reported, "Locally owned businesses can make more local purchases requiring less transportation and generally operate from within city centers as opposed to developing on the outskirts of a city." Reducing the excess amount of shipping and transportation pollution is a small step local businesses can make towards reaching a larger goal. At General Linen, we have made a commitment to "Being Green" furthering our mission to impact the environment positively.   
Superior Customer Service
As a local business, we are able to provide unique and extraordinary service to our customers. We know the importance of getting what you need on time, which is why we make use of RFID technology that most national chains neglect to utilize. We also know that communication is key. That's why when you call us you'll get a real employee that won't give you the runaround. It's become second nature after 80 years of service to treat every customer, big or small, with the exceptional service they deserve. We believe you can only find this kind of customer service with a local family owned business like General Linen.   
Transparent and Trustworthy Billing
At General Linen, we make sure you know exactly what you're paying for. We offer personalized services that fit your budget and will never charge you for unnecessary or unwanted services. Got questions or concerns about your billing? We will always be happy to explain our billing process and answer any questions. 
Flexibility
A common misconception about local businesses is the idea that they lack product variety. However, at General Linen, we are a local provider, with the ability to provide our customers with excellent product assortment. We meet with our customers to collaborate and make sure they're getting exactly what they need for their business. 
At General Linen, we aim to provide our customers with unparalleled customer service. We'll handle the linen and uniform management so you can spend your time where it counts. Contact us today to discover more about how General Linen can assist you!