Switching Uniform Providers is Less Scary Than You Think: Here's 5 Reasons Why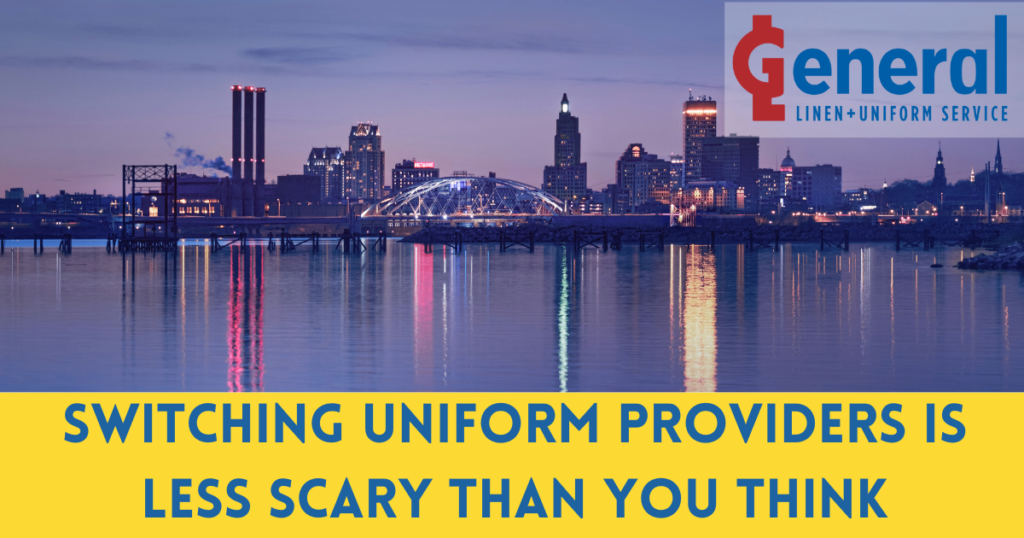 When switching uniform providers, you're left to wonder; is the grass always greener on the other side? Making a big change can be daunting, and the fear of leaving your current uniform supplier for the unknown can result in decision paralysis.
However, switching uniform providers is less scary than you think. Here are the top 5 reasons you can have confidence in making a change. independent company, you know and can trust with whom you are partnering for your linen services.
1. An Inexpensive (and Easy) Switch
Many national uniform companies have auto-renewals in their contracts. In fact, you may have to give several months notice to cancel your contract without any extra fees.
At General Linen, we're confident in our service standards. Therefore, we don't hold you hostage in a lengthy contract.
Transparency is the key to clear communication. National uniform companies are known to tack on fees at the end of their contracts. However, our consultants collaborate with you to make sure you're only paying for what you need.
General Linen's dedication to transparency gives you the confidence to handle your business' day-to-day responsibilities, while we manage your uniforms and more.
2. Local Customer Service
A uniform emergency that's solely followed up with an automated customer service message can make the situation even more of a headache. That's why at General Linen, you'll always get connected with one of our experienced team members in minutes.
As a family-owned and local uniform service provider, we treat our customers like they are part of the family. We know the importance of a fluid work process. You want your linens and uniforms on-time and complete, so we go the extra mile to ensure everything in your order is accounted for.
In the past few years, we've made significant investments in RFID tracking—a technology that allows us to account for all garments and mats properly and effectively.
Our RFID tracking allows us to keep track of your garments, give accurate invoicing, ensure complete deliveries, and offer online access to view invoices and request changes. Most national uniform companies don't offer this service.
Reach out to us today to see how RFID tracking can improve your uniform and mat rental experience!
4. Protecting the Environment
Work with a company that's passionate about protecting the environment! At General Linen, we seek to promote sustainable business practices through our energy conservation initiatives, waste reduction efforts, and a commitment to recycling.
We leverage our technology and our employee's training to better the environment and preserve our natural resources. Take a look at all of our efforts in energy and water conservation!
80+ years of family-owned and operated uniform service allows us to consistently refine and optimize our process. We're one of the largest linen management companies in New England and have state-of-the-art facilities at all of our locations. We love serving our local community and building long-lasting relationships with our customers.
At General Linen Service, we use a consulting approach to handling our customer's needs that will maximize value for them. Our focus is to provide customers with exceptional value and service, making them feel like a valuable part of the General Linen family.
Take the first steps towards switching uniform providers! Contact us today and discover the high-quality rental programs we offer at General Linen.