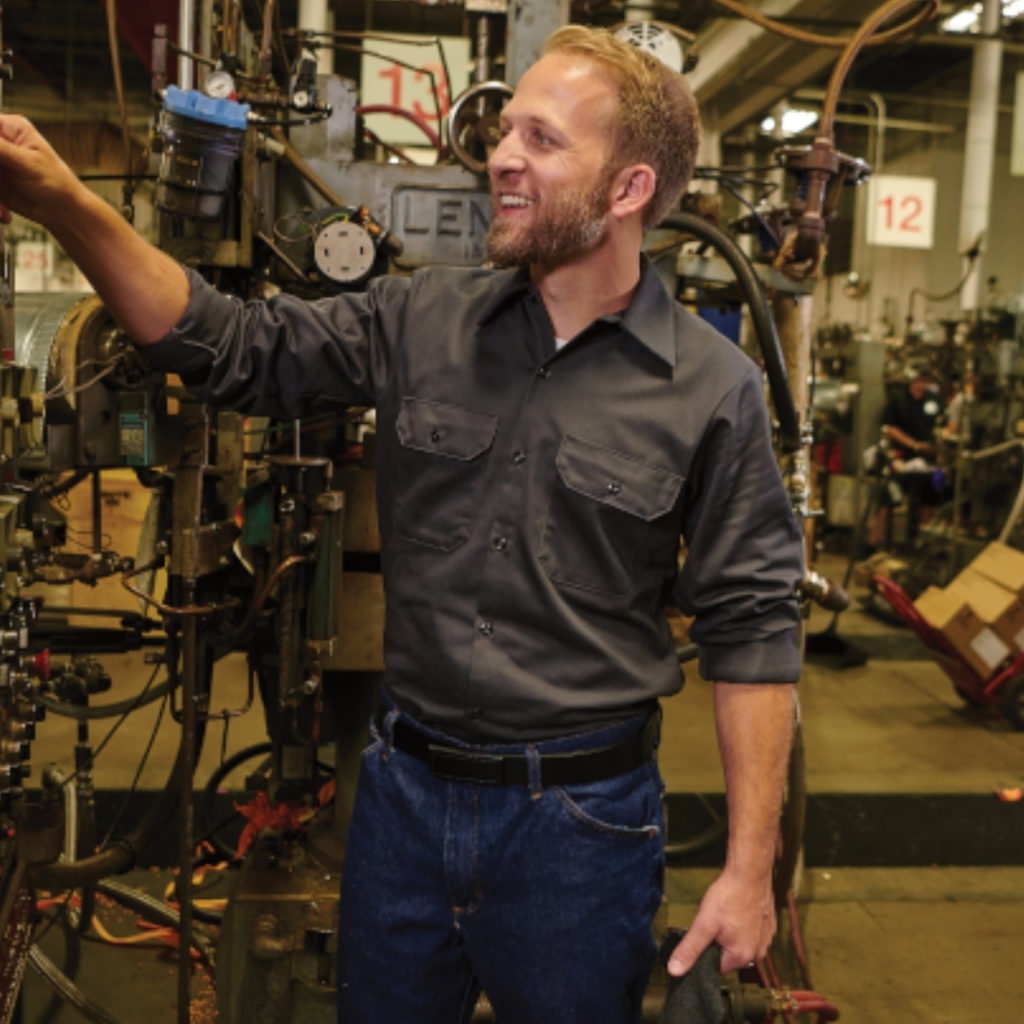 Working in manufacturing means getting down and dirty to get the job done. Few things are more important than a comfortable and durable pair of denim blue jeans.
There's much more than meets the eye when it comes to blue jeans. All the extra pocket space allows you to carry all the tools and devices you need around the facility. Not to mention, they last longer than most other pants and hide stains incredibly well.
General Linen can offer denim blue jeans in addition to your uniform rental program. Keep your employees outfitted in high-quality jeans that will stand up to the test of the manufacturing floor. It's not easy to stay looking clean on the job, but we make it easier with all of our specialty options including denim blue jeans.
Your uniform program can include jeans from top brands, available in carpenter or straight-leg styles.
Why Outfit Your Team with Denim Blue Jeans from General Linen?
Dependable Customer Service
As a family-owned and operated business, we know the importance of 'customer first'. When you place a call to General Linen, you'll always get one of our friendly and experienced team members. Therefore, spending less time in an automated phone tree and getting service faster.
General Linen's route representatives will restock your inventory every week, so you'll never have to go out searching for replacement garments that were never even purchased.
Uniforms can be expensive to replace, especially after investing in a few more "durable" ones. What's more, they only remain in acceptable condition for so long! Choosing General Linen to supply your garments will guarantee employees always look clean, the uniforms are in great shape, and you won't have to stress about any additional costs from mending or replacing.
General Linen Sanitation Guarantee
Cleaning uniforms often falls on the shoulders of the worker who bought their own, and it's easy to forget or just to keep using the same one. They're just going to get dirty the next day anyway! Maintain hygiene standards while General Linen launders and sanitizes your garments for you.
Knock out your dirty uniforms with General Linen! Learn more about how we can keep your business running smoothly with our uniform rental services and denim blue jeans by contacting us today.