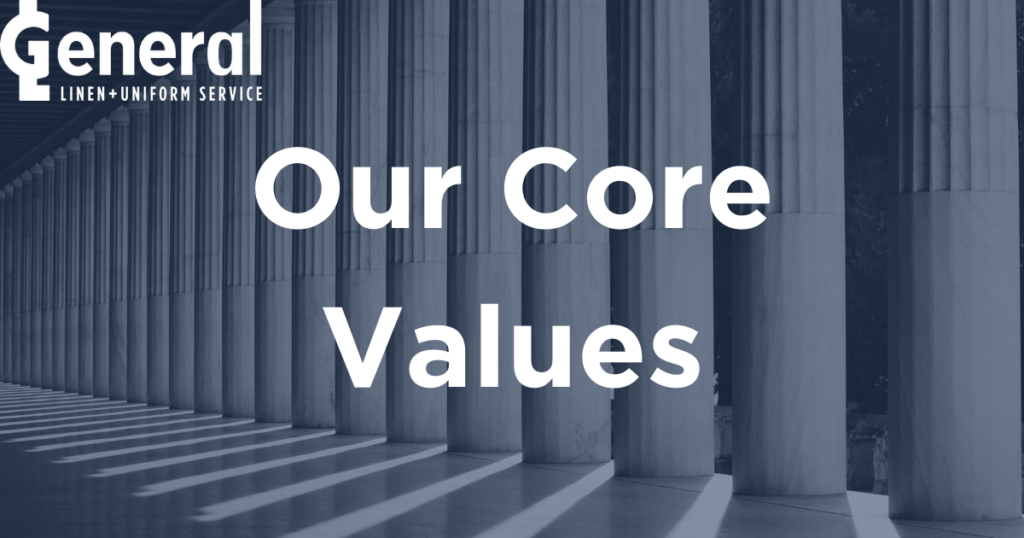 Company Culture
General Linen was founded in 1938 and has been family owned, serving local communities ever since. We built a company and our core values dedicated to serving our customers to the highest standard. This happens through working efficiently as a team and using all the current innovations and technology in the industry. We set up our employees for success from day one so they can serve our customers to their best ability. All of this culminates to an organization that knows how to work-hard and celebrate client achievements along with them.
Leadership
In 2019, Shane Drolet bought General Linen from family members making him a 3rd generation owner. Shane made significant investments in the leadership team with visions of the future. This led to a shift in core values with improvement in mind. General Linen's core values are:
Safety First: The backbone behind all decision making.
Integrity: conducting ourselves with honest, ethical, and moral commitment
Loyalty: honoring our commitments to our customers and teammates
These values are pillars that allow the leadership team to deliver on promises to customers. They also allow General Linen employees to manage their own deliverables while staying within company standards. We believe this is the best path to provide our customers and employees with the best experience possible.
Learn more about our leadership team: Significant Investment Leads to Expanded Executive Team
Sustainability Priority
General Linen has made a commitment to sustainability and "Being Green" in our way of doing business responsibly. It is our goal to positively impact the environment in as many ways as we can. "To promote our Green Initiative, we have implemented a number of progressive corporate programs aimed at preserving and protecting our environment." Most recently, we invested in a new routing software to optimize our service routes in order to reduce our carbon footprint and better serve our customers. We believe these initiatives reflect our commitment to the community and how we'd like to leave the environment in a better condition for the next generation.
Find out more about our commitment to "Being Green" through energy and water conservation, recycling, and more!
Customer First
Customer satisfaction is a top priority while delivering high-quality garments and linens. We've invested in RFID technology that most national providers don't use. RFIDs allow us to track all garments and mats through the entire rental cycle. This means more accurate deliveries and invoicing and less worrying about missing units. General Linen has also committed to growing and improving the business across the board to make our customers' lives easier. Here are few of the changes we've made to keep that commitment:
Partnered with eMaint, a CMMS program, and created a preventative maintenance program for all of the equipment in the plant. This will ensure our equipment is well maintained!
Upgraded software so that service tickets can now be reviewed by Route Service Reps on their mobile device. This allows us to respond to customer concerns quickly
Upgraded our phone system to make reaching and talking to someone who can help easy
Hired, onboarded, and trained over 35 new production employees. At the start of 2021, we had 14 employees working in the production and now have over 50 GLS production employees, with an 82% employee retention from those new hires.
New training programs for our new outside sales representatives and our entire team
For a full list of improvements, check out: "The Key To The Future at General Linen"
 Looking for a change?Join a growing, thriving company that is focused on a culture that values integrity, honesty, and safety. Click HERE to learn more about the opportunities available at General Linen.